Bring the comfort of electric radiant heated floors into your home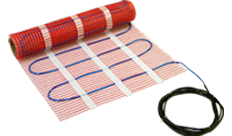 Radiant Floor Heating Mats
HeatTech mats are the easiest and fastest to install, and are best suited for rectangular-shaped areas. The cable is pre-spaced on the mesh at 3", offering optimal heat distribution and allowing the heating system to output as much as 41 BTU's per square foot of floor. All HeatTech mats feature adhesive fiber-reinforced mesh backing which can be cut and manipulated, and which allows to lay the mat flat onto the subfloor surface and keep it flat throughout the installation process. It is easy to reposition the mat as needed without the need for constant re-stapling and re-taping. With radiant heating cable at only ~1/8" thick, the HeatTech mats will not significantly raise the finished floors and are perfect for electric radiant heating applications both in new construction and retrofits. Simply lay out and secure the mats, install the finished floor and controls, and enjoy the comfort. HeatTech radiant floor heating mats come in sizes ranging from 10 sq. ft to 100 sq. ft and can be combined to heat an area of up to 150 sq. ft. in size.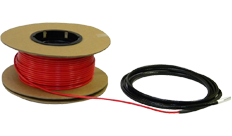 Radiant Floor Heating Cable
For added versatility in installation of electric radiant floor heating systems in non-rectangular areas, containing rounded or angled perimeter with numerous turns, HeatTech heating cable is the optimal solution. Flexible, yet tough, it accommodates nearly all types of heating areas and can be spaced at 2", 3" (recommended) or 4". At only ~1/8" thickness, HeatTech cable will not raise the total height of the floor significantly and can be implemented into the bathroom, kitchen or other areas of the house at almost any time during the early stage of construction or renovation. HeatTech electric radiant floor heating cable comes in length ranging from 40ft to 400ft and is capable of heating areas of up to 135 square feet in size (@ 4" spacing). Similarly to the floor heating mats, multiple runs of cable can be combined to heat a single dedicated area using only a single thermostat.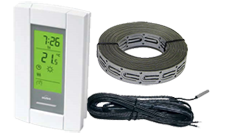 Thermostats & Accessories
For best performance of an electric radiant floor heating system, HeatTech cable or mats should be installed in conjunction with a floor sensing thermostat and a sensor. This combination will ensure the fastest system response time and optimal distribution of electrical energy, especially in tile floor heating projects. HeatTech.com offers several thermostat models for use in electric radiant floor heating projects, including model with built-in 5ma GFCI for added safety and security. HeatTech electric radiant heat cable is best installed in combination with cable guides, which allow to space the cable as needed and will not raise the finished floors. The above items and other systems components are available in this section.
---
Low Cost:

with no expensive hydronic heating equipment to buy, install and regularly maintain, HeatTech radiant heating system offers the most cost-effective way to bring the comfort of warm floors into your home.

Easy Installation:

intuitively simple, most installations can be performed in just a few hours or less, depending on the skill level of the installer and size of the heated area.

Quality Design:

HeatTech products are UL listed for USA to ensure safe operation and made with top-grade materials to provide long-lasting and uninterrupted performance.

Plus, only with us you get:
---
Applications:

New construction and retrofits
Residential homes and apartment buildings
Bathrooms
Kitchens
Saunas & Spas
Whole-house heating

Installs under these flooring types:

Subfloors:


HeatTech mats and cable can be installed over various subfloor surfaces, including plywood, cement boards (backer boards), concrete slabs with smooth surface and mortar beds.