---
HeatTech Accessories and Honeywell Thermostats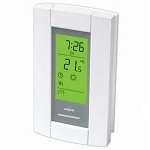 Honeywell Thermostats:
Each Honeywell (Aube) thermostat comes with a floor sensor.
All listed models are 7-day programmable.
15 Amps maximum load per thermostat.

TH115-AF-120S

: for

120V

systems only

TH115-AF-240S

: for

240V

systems only

TH115-AF-GA

: for

either 120V or 240V

systems, includes

built-in GFCI

(5 mA)
for more info and specifications, click here.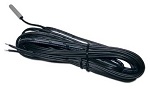 Floor sensor:
Honeywell AC112-01 sensor is included with every Honeywell floor sensing thermostat model. It can also be separately purchased for installation as a backup (secondary) sensor or for replacement purposes. Backup sensor is recommended in installations where sensor in not installed inside the conduit, but directly in the cement. Comes with 15ft long leads.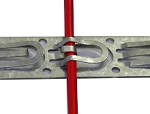 Cable Guides:
A must-have for any floor heating cable installation, this product is included free with any Cable Kit. (see HeatTech Floor Heating Cable & Kits for details).
Additional 25ft rolls can be purchased separately in this category - a single roll accommodates cable installation in approximately 50 sq. ft of heated floor area when cable is positioned at 3" spacing.
Jump to:
Thermostats, Sensors & Accessories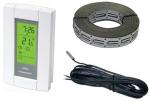 Thermostats and other accessories used for installation of HeatTech radiant electric floor heating systems.
Choosing the right thermostat
GFCI vs. Non-GFCI
Installation of HeatTech electric floor heating system requires a class "A" GFCI to be present. First option is to have a circuit breaker with built-in GFCI. Second option is to purchase a thermostat which has a built-in GFCI.

TH115-AF-120 and TH115-AF-240 are non-GFCI (regular) models and are for use with 120V and 240V radiant floor heating systems respectively.
TH115-AF-GA is a dual voltage (120/240V) thermostat with built-in 5mA GFCI and works for systems with either 120V or 240V.
Read more about floor sensing thermostat types here.
Maximum load
15 Amps is the total maximum load allowed for use with thermostats listed.
For 120V systems, this results in heating floor space of up to 150 square feet.
For 240V systems - up to 300 square feet.
Specifications
Except for the difference in voltage and GFCI availability as explained above, the following specifications are standard on all models listed:
Programmability: 7-day programmable, 4 time settings per day
Dimensions: 4.9" x 2.8" x 0.9"
Mounting: Vertical only
Color: White
Display format: 12-Hour (Fahrenheit) or 24-Hour (Celsius)
Display features: Backlit w/ 12-seconds time-out
Switch positions: Ambient + Floor (AF) or Floor Only (F)
Operating temperature: 32F to 120F
Settings temperature range: 40F to 86F
Temporary override supported: Yes
Accuracy: ±1F
Power method: Hardwired
Maximum load: 15A
Frequency: 60 Hz
Wires: 6", Tinned Copper Leads
Fits into: 1-gang Box
Settings backup: Yes, Battery Not Required
Approvals: UL/CSA
Warranty: 3 Years
Literature

TH115-AF-120S and TH115-AF-240S - Installation Manual (pdf)

TH115-AF-GA - Installation Manual (pdf)

CT230-GA - Installation Manual (pdf)

Repair Kit Installation Instructions (pdf)

TH115-AF-12VDC - Installation Manual (pdf)